Testing Out the Land Rover Defender 110 in Christmas Valley
Testing Out the Land Rover Defender 110 in Christmas Valley

Posted by Josh Ashcrof, 25th March 2021
The Land Rover Defender. Possibly the most iconic vehicle on the planet.
As one of the most well-traveled and historied 4x4's, the Land Rover Defender's newest design has received a lot of scrutiny from armchair critics. But how it actually performs on the trail will ultimately decide its fate.
Prior to this trip, I had seen a few in passing on the highway, but didn't have any real experience with them outside of the Portland International Auto Show. As fate would have it, our friend Nick Jaynes was offered the opportunity to test out a new Land Rover Defender 110 for Overland Expo.
He asked if I wanted to join him in my 1986 Defender 110, and of course I said yes.
I'm always looking for an excuse to get out on the road. The opportunity to see the new truck in action (and photograph the new and old 110s together) was too good to pass up.
But there was a challenge: Nick only had access to the press truck for four days.
Camping weather in Oregon early December is not ideal, and a four-day trip meant we couldn't venture too far.
Most of our regular spots would be covered with snow. We needed to find a spot that would be drivable, but also provide a good variety of terrain to put the new truck through its paces and keep us entertained.
With all of this in mind, we decided to head to the central Oregon community of Christmas Valley.
Arriving in Christmas Valley

The name Christmas Valley — like the whimsical holiday-themed street names within — was very appropriate given the season. In reality, the area was named after pioneer stockman Peter Christman.
After World War II, a real estate developer named Penn Phillips latched onto the name and subdivided the area, naming the streets after holiday themes (such as Candy Lane, Mistletoe Road, Comet Street, etc.), promoting the property to would-be farmers and retirees in California.
While the name conjures images of the 1964 Claymation classic "Rudolph the Red-Nosed Reindeer," the region, in reality, is a dusty, arid, high desert, with high winds and extreme temperatures.
Today, the Phillips development is largely considered a scam. Most of the lots remain vacant and are available to purchase for a few thousand dollars each.
The variety of terrain, wide open landscapes, and the privacy that the secluded region provides draw me back to Christmas Valley, time and time again. There are a lot of really interesting geological features which provide nice points of interests to break up your day and opportunities to get out of the truck and stretch your legs.
The fun and unique terrain would provide a good opportunity to test out the new 110, but there would be nothing so technical that we'd have to worry about banging up the Land Rover in the process.
Our trip began in Portland. I had just installed a Holley Truck Avenger 470 carburetor in my Defender 110 - straight out of the box. Usually carburetors need to be tuned to the individual engine, but it was running surprisingly well – even better than the old one. .
So I decided to leave well enough alone, and with that, we headed south.
We met up with Nick, who was behind the wheel of the new 110. Joining us were Nick's friends Rob and Winslow, driving a Jeep Gladiator and stock Wrangler. Our Photographer Rene, and Jason followed in my LR3.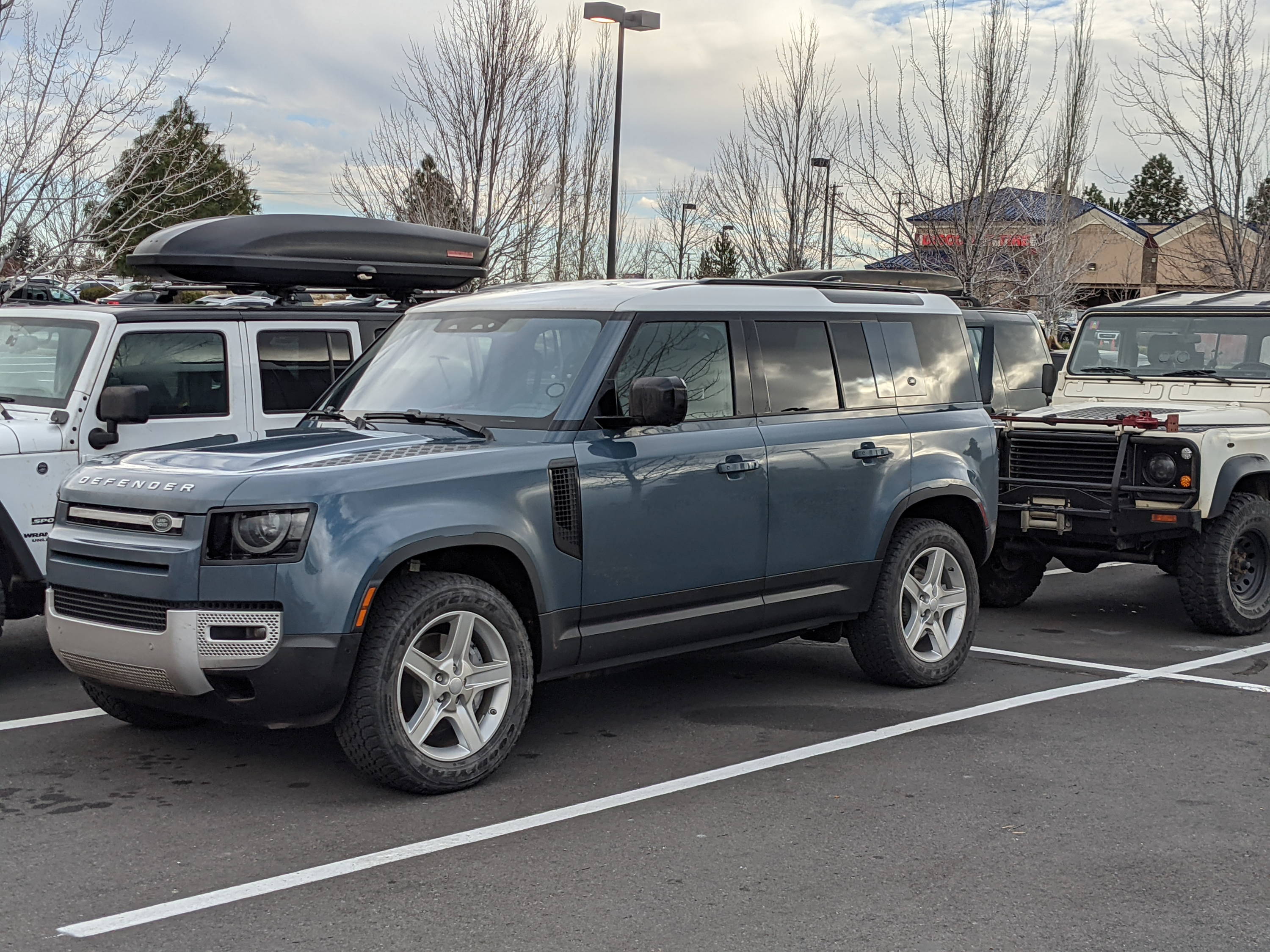 As we rolled into Bend, I noticed my 20-gallon tank was nearly out of fuel. We'd only traveled 120 miles since our last fill-up. Apparently, the frehly installed carburetor was running quite rich.
In the interest of keeping the group moving, I decided to wait until we made it to camp to make some adjustments at the end of the day
As Bend was the jumping off point, where we would finally leave the tarmac and head for Christmas Valley, we aired down.
Well, most of us did. The new Defender 110 has 19" diameter wheels and a relatively mild AT tire, so we only let a bit of pressure out.
Settling in for the night

We set up camp at a site near Horse Ridge. The spot greeted us with an epic westward view as we arrived, just in time for sundown.
The day had been sunny and beautiful — no rain, no snow, and relatively warm. But as it does in the desert, it got quite cold in the night.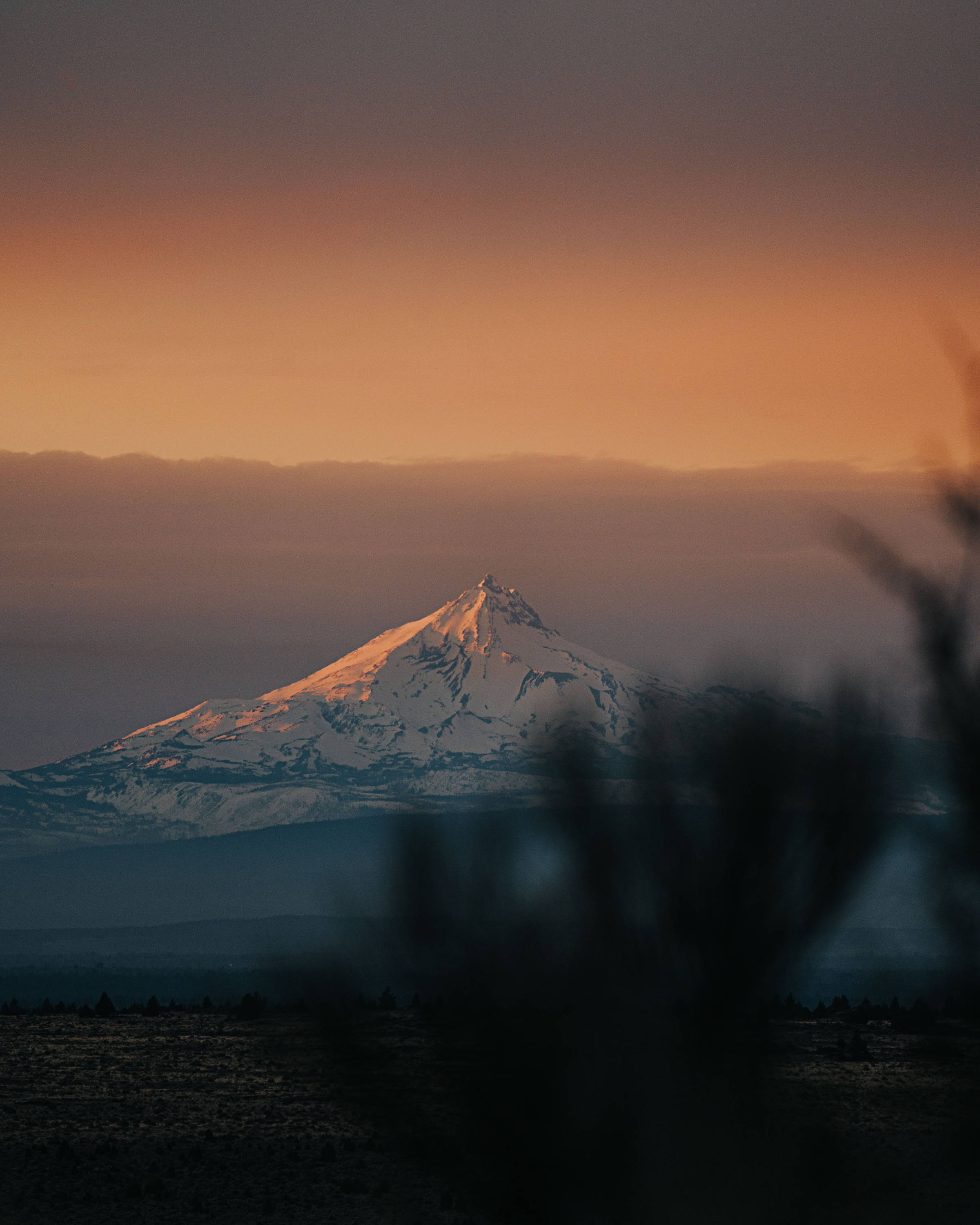 Day two brought a mix of fast and flat dusty roads and a few hill climbs with washouts through the forest. We flew past Pine Ridge, Firestone Basin and Sunflower Flats for a fun climb around Corral Butte, where the group took the opportunity to capture some photographs of the rigs traversing a section of deep ruts.
From Corral Butte , we made a fast run back down to our campsite near Benjamin Lake. That night we were greeted with another piece of equipment Nick brought to test: SOUNDBOKS — the loudest Bluetooth speaker in the world.
As we were in a pretty remote area, we put the speakers to the test, cranking up the tunes for our own private music party.
While I don't know that I can justify bringing such a large speaker on an average trip, it it made for a fun night in camp.
Day three offered up the most diverse and interesting terrain of the trip. We passed through The Lost Forest, traversed the Christmas Valley Dunes and drove down a really lovely little track to a small but rough hill climb. This led to the trailhead ofa short hike to a A6 Intruder wreck from a Navy training exercise.
There are several large, low-altitude Military Operations Areas in this part of Oregon where you can watch pilots from all around the western US training. I've only seen A10s and F15s, but it's always pretty impressive to be greeted with high- speed, low altitude aerial maneuvers.
The morning brought relatively fast and straight ranch roads, which provided a great opportunity to capture some moving shots of the two Defenders together.
Located in the Oregon desert, the Lost Forest is a 9,000 acre island of large, old-growth ponderosa pine trees. .. This self-sustaining forest is unique in that it grows in a desert 40 miles from the nearest contiguous pine forest. This isonly possible due to the region's unique hydrological soil conditions.
The forest also happens to be directly adjacent to an interesting geological phenomena — The Christmas Valley Sand Dunes and Fossil Lake.
Fossil Lake is one of the most productive Holocene fossil sites in the world, second only to the La Brea Tar Pits in Los Angeles. The lake is strictly off-limits to vehicles, but can be explored by foot. Collection of the fossils, however, is strictly prohibited, as the site is used for scientific study.
Since we didn't have a ton of time, and our main purpose is to test the new 110, we skipped Fossil Lake this time and headed for the dunes.
The Christmas Valley Dunes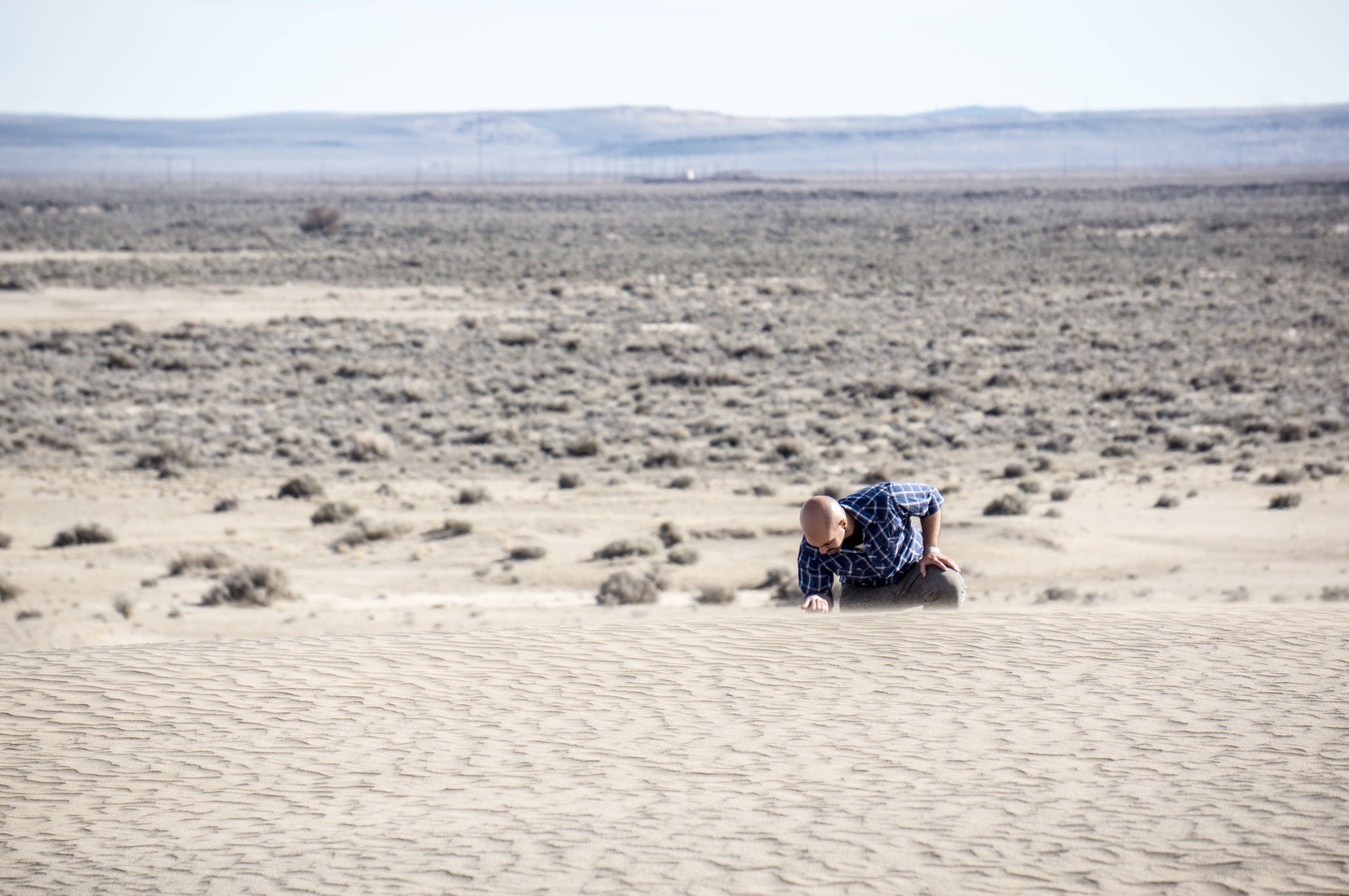 The Christmas Valley Dunes are an 11,000 acre natural sand complex. After driving through rocky volcanic grasslands for days, it is a surreal feeling to come upon such a large dune complex, stretching as far as the eye can see. The scenery reminded me of Northern Africa.
Unlike Fossil Lake, this area is very much open to vehicles and OHVs. As we had arrived in the off-season, there was literally no one else there and we had the whole dune complex to ourselves.
If you've never driven in the dunes, they're surprisingly fun, and surprisingly intimidating. And rightfully so — dunes can be very dangerous if you don't know what you're doing.
As such, we gathered for a quick driver meeting to review some of the basics. It's not uncommon for a dune to be so steep that you can't see slope when going down, nor the top when cresting.
It's important to get out and have a look around before you descend from such a slope. It's even better to have a spotter above or below who can see your landing zone to make sure no one is below.
If you're not experienced with dune driving, one of the most important things to remember is to drive straight up and down perpendicular to the slope, not across it.
Once you go, you must commit. You can't stop on a sandy slope — it's like riding a little avalanche. If you try to slow down, the sand will overcome you and push the back end around. Then you risk rolling the vehicle.
It's surprisingly easy to get lost in the dunes, and more difficult to navigate than you'd expect. While you can drive "cross country," there are many slopes and ridges which look navigable from a distance, but as you get closer, you realize they are not, in fact, driveable and you can find yourself with a clear line of sight to where you came from or where you're trying to go, and no navigable terrain to get there
As you continually adjust course around the obstacles, it's very easy to lose your bearings.  
If you have a GPS, it's a good idea to mark your entry point into the dunes, so you can always navigate back to it. We took as much caution as we could, and worked as a team to keep each other safe throughout the fun.
After a nice lunch atop the dunes, we heard the unmistakable rumble of a pair of F-15 aircrafts — flying very low and very close. The thundering grey planes pulled up hard from below the horizon and banked right, quickly disappearing into the thin cloud cover.
I see these types of planes take off nearly every day from my shop in Portland, but there's still something about that sound that gets me excited every time. Seeing them performing low altitude maneuvers was an unusual treat.
We continued on to the final point of interest for the day — Burma Rim. This is the crash site of an A-6 Intruder, one that was performing low-altitude training just like the F-15's we had just seen.
During a nighttime sortie on September 19, 1973, both Naval Aviators were killed in the crash. The first time I visited this site was on Memorial Day a few years ago.
We navigated our vehicles up a small rocky hill to the parking area. It's about a mile-long hike to the tail section and from there about 1/8th of a mile to the large pieces of the wreckage.
It's nearly unbelievable how large of an area the aircraft parts were strewn across. It was a somber reminder of the danger that our service members put themselves in, even in training.
Right before the parking area is a small rocky hill-climb. Nothing that really tests our vehicles too much, but a high clearance 4x4 is necessary.
Once parked, it's about a mile hike to the tail section, and from there about 1/8th of a mile to additional large pieces of the wreckage. It's amazing how large of an area the parts were strewn across. It was a somber reminder of the danger that our service members put themselves in — even in training.
Losing daylight, we packed up and headed for our final destination for the night — camp. We camped at one of my favorite spots in the valley, up on a small cinder cone with a tremendous view.
We lucked out that night. It was a bit cold, but not too windy and no rain.
We made a group meal by the fire, while listening to the soothing sounds of Metallica on Nick's SOUNDBOKS before calling it a night.
The next morning, we were greeted with a surprise — a perfect white blanket of snow covering the ground.
It was time to head home to Portland. During the long drive home, we stopped at "Crack in the Ground" - a mile-long (and hikeable) geological fissure. ."
I used to fit through the cute, but my sternum catches now. I don't know if the rock has moved or if I've gotten bigger, but it's tight enough that I didn't want to press my luck.
It took a good hour to do the whole thing. It's one of my favorite features in the region, so I always try to stop there. It's also a nice excuse to get out of the truck and get a little exercise while on the road.
My Thoughts on the Land Rover Defender 110
The 5-hour drive gave us time to reflect on the differences in the trucks, though the new 110 probably provides an easier time when it comes to reflection.
The full sensory assault in my '86 — combined with attention required to keep a solid axle with soft springs going the direction you want it to — makes thinking a bit more difficult.
You can read about Nick's thoughts on the new 110 here > I wasn't actually able to drive the new truck personally, but two things I can say without question:
The rig was more than capable of everything we did on this trip. Nothing that rose to the level of "rock crawling," but it was a pretty typical overland trip with some rough sections you wouldn't get up without a high clearance 4x4, and

The new truck just looks great.
I could go into all the reasons I own an old 110 (and in a future post, I will). Fully floated solid axles, coil sprung, field serviceable, blah blah blah.
But let's be honest – the old trucks are stunning,
Have you seen what a 110 looks like? It's literally the physical embodiment of vehicle-based adventure. It IS an icon.
It represents an idea and that's a powerful thing that people want to own a piece of, to support, and to be associated with which is why a replacement draws such strong emotional responses.
And the new truck? While for now I'll stick to my old 110, I could see the day I would trade my LR3 for a new 110 (the day the new 110 depreciates…A LOT)...Should it prove to be as reliable over the long haul.
In the meantime, I'll just admire it's dashing good looks from a safe distance.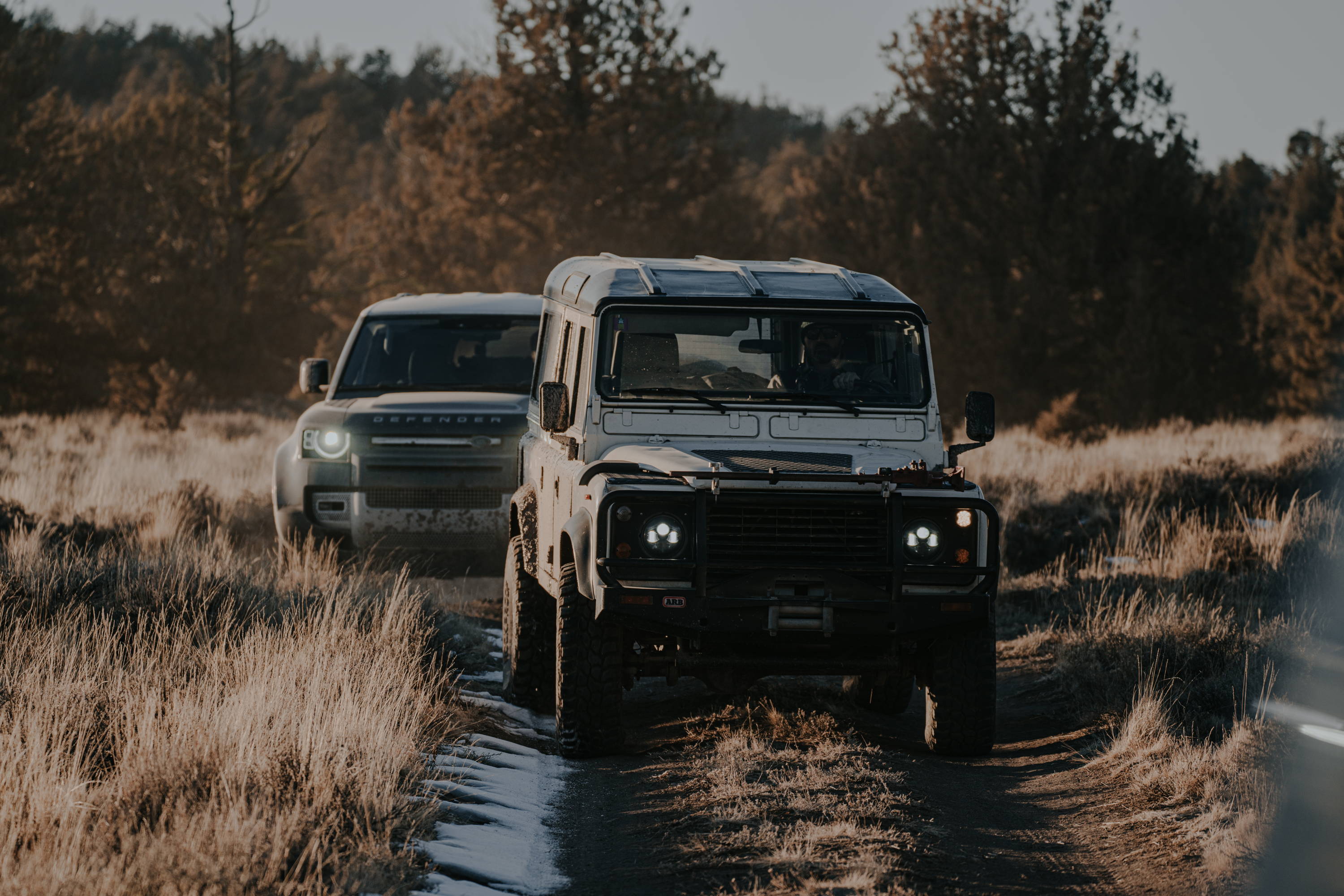 NOMADICA donates masks to The Navajo Nation
This wasn't the only adventure the Nomadica team has been up to lately. In early January, we teamed up with our partner MakerForce to donate face masks to Navajo families and elders in need.